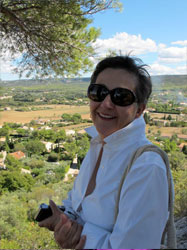 Rainey
This user hasn't shared any profile information
Posts by Rainey

2
Sometimes it rains, and sometimes it rains all day!
So, when that happens, it's time to get the umbrella and go exploring!
We headed to St Quentin-la-Poterie, which is just 5 kilometers northwest of Uzès. As the name suggests, it has been a center for pottery for a long time. In fact, many of the tiles for the Palais des Papes in Avignon were made there in the 14th century. So, when you wander the little streets of this ancient village, it's easy to conger up images of 14th century artisans working on their tiles.  It is also easy to walk into the present day artist's shops and admire their beautiful pots!
Back in Uzès, the Wednesday marché was going on… even in the rain.  After all, we still need to cook our dinner!  And, look how happy the carrots and lettuce are.
After a quick wander around the market stalls, we headed to Chez Cerise, a cozy little restaurant on the place Dampmartin.  Now, I don't want to sound too "over-the-top" here, but this place really is the answer to all of your romantic fantasies about little French cafés.  On this lovely, rainy day there was a fire in the fireplace, Michel Legrand music playing and one of the best lunches we have had in some time!   How's that for the answer to your dreams about France?
Chez Cerise is open Wednesday – Sunday 9-4pm  Tel:04.66.03.30.57

1

2
If you are one of those people who is drawn to France because of the food and wine, then the week of October 13-19, 2014 is for you.
Perhaps you are asking what is the Fête du Goût?
The English translation is simply Festival of Taste.  Since 1990, on the initiative of the food writer Jean-Luc Petitrenaud, the Ministry of National Education has sponsored a week in October to bring together local, regional and national sources in order to learn more about France's culinary heritage and the food industry.  French students from kindergarten to high school participate in the event.  The aim is to educate consumers, including children, about the diversity and the pleasure of tastes and flavors.  Of course, this includes encouraging good eating habits as part of a balanced and sustainable way of life.
But enough of the dry explanations and on to the fun!
In Uzès on Sunday, October 12, there will be a full day of festivities.  There will be foods, wines, music, dance and even a waiter's race!  This will be a great time for the whole family.  If you are in the area, don't miss the fun.  Or, make a note on your calendar to come to Uzès next year to attend!!
A bientôt!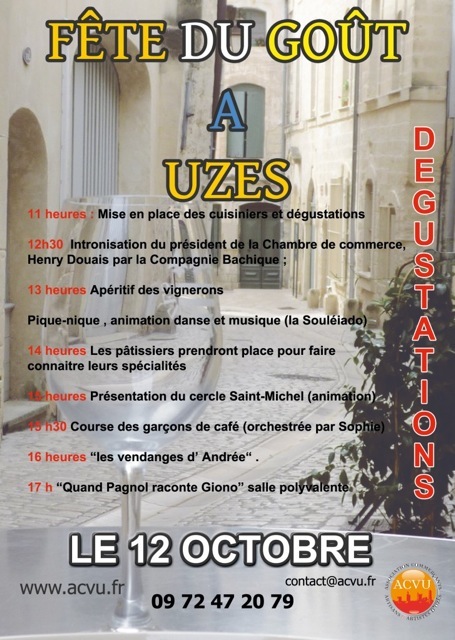 Rainey's RSS Feed